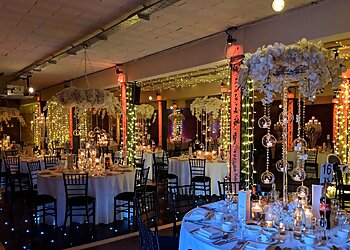 Qube Decor Group is the UK's multi-award-winning luxury event decor company founded by Debbie Marks. Their company has over 40 years experience in event management and they pride themselves in offering luxury event decor of excellent quality and provide exceptional service. They specialise in planning, styling and designing extraordinary bespoke weddings, parties, corporate events and bar/bat mitzvahs. They work with brides and grooms, wedding planners, event agencies, hotels, venues, restaurants and bars to deliver outstanding decor every time. Qube Decor Group vision is to make the planning of any event or decor project easy and stress-free for their clients. They are inventors who continuously move forward innovating and improving in every way possible. In 2016 and 2017 Qube Decor Group earned the title Best Event Venue Stylists in the UK. They pride themselves in offering event decor and services that are excellent quality, value for money, and offer you exceptional service.

UNIQUE FACTS:
• Free Consultation
• One-To-One Meetings
• Personalised Timeline
• Stress-Free Planning.
Speciality:
Bar/Batmitzvahs, Corporate Gallery Events, Weddings, Party Planning, Corporate Events, Floral Table Centrepieces, Conferences, Ceremony Decor, Birthday Parties, Charity Events, Christmas Parties, Bouquets, Buttonholes, Top Table Flowers, Lighting, Event Styling, Floristry, Bat Mitzvahs, Pedestals, Floral Arrangements, Venue Decor and Statement Pieces, Event Furniture, Dancefloors, Backdrops, Chandeliers and Hanging Decor, Table Centrepieces & Tablecloths
£Price:
Full Styling (Includes Set up):
Starts from £1600 (Jan- April)
Starts from £2500 (May – Dec)
Drop off Service (No set up):
Min spend £200 (Jan – Nov)
Min spend £500 (December)
Dry Hire (Collection and return Radcliffe, Manchester):
£200 minimum spend. Ideal for DIY brides, venue stylists/florists & wedding planners

Contact:
Working Hours:
Mon-Fri: 9am - 5:30pm
Sat & Sun: Closed
TBR® Inspection Report: