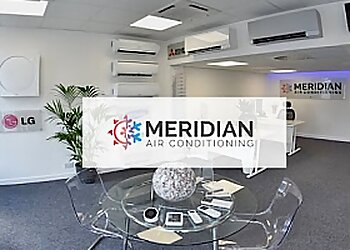 Meridian Air Conditioning Limited is the premier air conditioning and ventilation specialist in the Bournemouth region. The company draws from over 30 years of industry experience, and its team comprises qualified and skilled project managers, engineers, and technicians who expertly navigate challenges with a wealth of knowledge and valuable advice. Beyond this expertise, they operate their own metal fabrication workshop, allowing them to offer comprehensive solutions to their clients. They take pride in tailoring complete packages for individual customers, emphasising total customer satisfaction. Their commitment extends to prioritising high-quality systems and services while ensuring the most competitive prices in the market. Additionally, they specialise in providing energy-efficient solutions for commercial, residential, or industrial properties, demonstrating their dedication to sustainability and cutting-edge technology. Their seasoned team and multifaceted capabilities make them your trusted partner for all your heating and cooling needs.

UNIQUE FACTS:
• 24/7 Call Out Service
• Complete Design & Installation Service
• FGAS & Air Management Legislation
• Ultimate Climate Control.
Speciality:
Air Conditioning, Ventilation, Fabrication, Installation, Maintenance & Servicing

Serving Locations:
Poole, Southampton, Winchester, Portsmouth, Bristol, Bath, Swindon, Brighton, Basingstoke, Exeter & Plymouth
Contact:
Working Hours:
Mon-Fri: 9:30am - 2:30pm
Sat & Sun: Closed
TBR® Inspection Report: