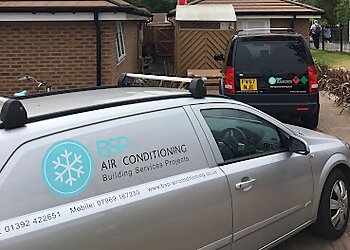 BSP Air Conditioning is one of the leading HVAC service companies in Exeter City. The company is dedicated to offering air conditioning installations in the most economical, cost-effective, and energy-efficient manner possible; the company stands out for its commitment to excellence. Specialising in delivering top-tier air conditioning equipment, they cater to a diverse clientele, spanning residential, commercial, and industrial sectors, not only in the South West but throughout the entirety of the UK. Beyond air conditioning expertise, they excel in a myriad of electrical services, covering every facet of the electrical system intricately involved in the installation of air conditioning and ventilation systems. They extend their support to all your ventilation and electrical needs at a minimal fee, ensuring comprehensive service and customer satisfaction. To instil confidence in their workmanship, every installation is backed by an impressive 7-year warranty, showcasing their unwavering commitment to the durability and reliability of their services.

UNIQUE FACTS:
• Free No Obligation Surveys
• Friendly Crew
• Passionate
• Over 30 Years Of Experience.
Speciality:
Air Conditioning Installation, Service, Repair and Maintenance, Commercial, Residential, Ventilation, Heat Pumps & Electrical
Contact:
Working Hours:
TBR® Inspection Report: