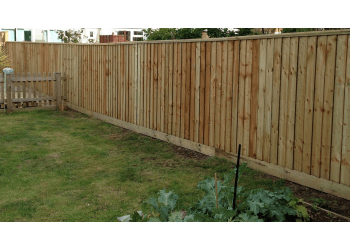 Paul Jackson Landscaping & Fencing, a small, family-run business located in Exeter and serving the broader Devon region, has firmly established itself as the benchmark for excellence in the field of fencing and landscaping. As a family-operated enterprise, they take immense pride in setting the standard for high-quality fencing and landscaping within their community. Their recent receipt of the ThreeBestRated Best Business of 2021 award, marking their third win in five years, is a testament to their unwavering dedication and meticulous attention to detail, reinforcing the genuine value of their hard work. They hold professionalism and outstanding customer relations in high esteem, setting them apart in this industry. Their commitment to providing top-notch, friendly service, coupled with a consistent practice of leaving sites immaculately clean and well-organized, lies at the core of their ethos. This devotion to excellence is echoed in the abundance of positive feedback and strong recommendations they receive from their local community.Our range of services encompasses a wide variety, each executed with the utmost precision using professional-grade tools to ensure a superior finish. They approach their work with genuine enthusiasm, continually striving to offer friendly, high-quality service while leaving a clean and well-ordered site on every occasion. They Specialise in a comprehensive array of fencing and landscaping services, they uphold their dedication to delivering quality and maintaining exceptional customer relations, as evidenced by their 100% positive feedback.

UNIQUE FACTS:
• Highly Recommended Services
• Waste Carrier Licensed
• Use Local Competitive Suppliers
• Quality Service
• Rated #1 Fencing Contractor In Exeter On Threebestrated.
Speciality:
Made to Measure Gates, Post, Rail, Hit, Miss, Stump Removal, Featheredge / Closeboard, Panels and Security Fencing, Pruning, Planting, Tree and Hedge Cutting, Landscape Services, Picket Fencing, Repairs, Fence Maintenance, Woodchip Supply, Fence Repairs, Felling/Dismantle, Pruning & Planting
£Price:
Contact:
Working Hours:
Mon-Fri: 8:30am - 5pm
Sat & Sun: Closed
TBR® Inspection Report: