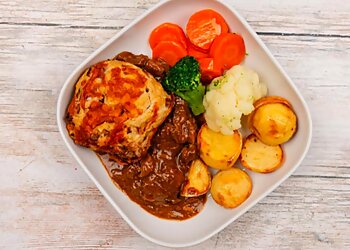 Olivia's Kitchen is the leading catering service in Gateshead, United Kingdom. Olivia's Kitchen has the expertise to curate the perfect event for you. From meticulously crafting menus and arranging staffing to securing venues and providing essential equipment, they handle all the intricacies, ensuring that you can fully savor your event. With a decade of dedicated service in the North East, Olivia's Kitchen offers a comprehensive solution for all your catering needs. Olivia's Kitchen centers its commitment on the principles of attention to detail, uncompromising quality, and delivering the best possible customer service. Their priority is to guarantee the success of your event. Their state-of-the-art, purpose-built professional kitchens are dedicated to producing fresh, flavorful, and safe food for all their clients. A testament to their dedication to the community, Olivia's Kitchen is resolute in sourcing products exclusively from local suppliers. Everything is obtained through local channels, from their culinary creations to their equipment and even the cool bags they use. So whether you're planning a corporate event, a business meeting, a summer BBQ, an elegant afternoon tea, or an intimate private party, Olivia's Kitchen is your dependable partner. Regardless of the event's scale, they are committed to making your occasion a memorable culinary experience.

UNIQUE FACTS:
• 5 Star Food Hygiene Rating
• Refrigerated Delivery Vans With Uniformed Drivers
• Reasonable Price.
Speciality:
OCCASIONS: Business Meetings, Summer BBQ, Afternoon Tea or Private Party Catering, Corporate Event, CATERING MENU: Bread Sandwiches, Wraps and Mini Rolls, Italian Antipasti Skewers, Mediterranean Crostini, Mini Tartlet of The Day, Marinated Chicken Skewer and Ham and Cheese Jambon. Crudités and Dip Platter & Cheeseboard Served with Chutneys

Serving Locations:
Newcastle, Gosforth, North Tyneside, South Tyneside, Sunderland, Washington, Durham, Chester-Le-Street, South Shields, Whitley Bay, Cramlington & Blyth
£Price:
Sandwiches Starts from £8.95 per person
Lunch Menu Starts from £8.95 per person
Soups Starts from £6.75 per person
Hot Food Starts from £14.95 per person
Afternoon Tea Starts from £11.95 per person
North East Menu Starts from £12.95 per person

Contact:
Working Hours:
TBR® Inspection Report: