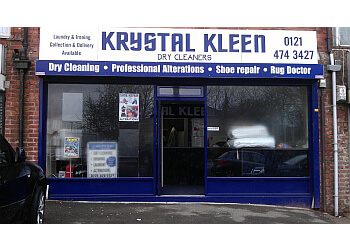 Krystal Kleen Dry Cleaners stands out as a premier dry cleaning establishment in Birmingham. They are renowned for its exceptional service quality. Their dedicated team of cleaners undergoes rigorous training to ensure the utmost care and restoration of your garments. With their expertise, your clothing is guaranteed to regain its original luster. Their dry cleaning service is not only outstanding but also swift and dependable. They have a knack for rejuvenating your apparel, ensuring it appears as if it were brand new, all the while preserving its unique shape. Moreover, their professional steam ironing service ensures a pristine and enduring finish. Krystal Kleen goes beyond standard dry cleaning services, offering a comprehensive array of alterations and repairs. From shortening trousers to replacing zippers, they have the skills to keep your garments in impeccable condition. Their commitment to excellence extends to various services, ensuring your wardrobe is in top-notch condition when in their capable hands. In addition to their remarkable services, Krystal Kleen provides boot repair options and the convenience of a complimentary pick-up and drop-off service for your utmost satisfaction.

UNIQUE FACTS:
• Excellent Customer Service
• Same Day Cleaning Available
• Competitive Prices
• Free Collection And Delivery Service.
Speciality:
Trousers, Laundry, Alterations, Ironing, Rugs, Blouse or Silk Shirt, Settle Covers, Bedspreads, Fancy Long Dress, Plain and Pleated Skirts, Jackets, Shawl, Coats, Jumper (Heavy), Stain Removal, 3PC Suits, Quilts, Blankets, Evening and Linen Suit, Puffa Jacket, Children's Clothing, Curtains, Tie, Cushion Covers, Waistcoat and Proms Dress Cleaning, Wash'n' Dry & Ironing Services
£Price:
Mens:
2pc Trouser Suit £13.50
3pc Suit £15.99
Evening suit £14.99
3pc Evening suit £16.99
Linen suit £13.50
Linen trousers £8.50
Ladies:
2pc Trousers suit £15.50
2pc Skirt suit £15.50
2pc Dress suit £16.99

Jump suit £15.99
Skirt (plain)£ 7.99

Contact:
Working Hours:
Mon-Fri: 8am - 5:30pm
Sat: 9am - 4pm
Sun: Closed
TBR® Inspection Report: