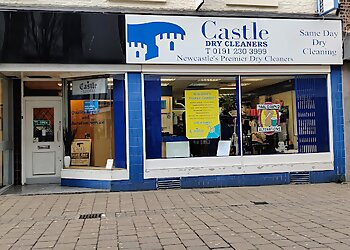 Castle Cleaners stands as a prestigious and leading independent dry-cleaning establishment located in Newcastle upon Tyne. This dry cleaning emporium offers enticing monthly and bulk dry cleaning promotions. Their unwavering commitment to perfection is evident, as they employ the safest and most advanced techniques within the cleaning industry. Their primary focus is your satisfaction, ensuring that they consistently provide outstanding products and services that exceed your expectations. With over four decades of experience in the dry cleaning field, Castle Cleaners has become a trusted authority in stain removal. Using state-of-the-art equipment and environmentally-friendly dry cleaning solvents, the shop takes pride in their dedication to eco-friendly practices. Their skilled and efficient team ensures fast and dependable customer service. Their highly-trained technicians handle your clothing with the utmost care, considering both the fabric type and colour during the cleaning process.

UNIQUE FACTS:
• Highly Qualified Staff
• Eco-friendly
• Same-day, Free Pickup Delivery.
Speciality:
Dry Cleaning: Wedding and Evening Dress, Trousers, Blankets, Suede, Ironing, Jackets, Sports Kit Cleaning, Table Linen, Curtains, Tailoring, Knitwear, Repairs, Shirts, Laundry, Duvets, Suits, Pressing, Bedding, Alterations, Leather, Formal Wear, Coats & Ties
£Price:
2 Piece Suit from £14.95
3 Piece Suit from £17.95
Jacket from £9.95
Trouser from £8.95
Coat from £11.95
Day Dress from £9.95
Evening Dress from £14.95
Dinner Suit from £17.95
Blouse from £8.95
Shirt from £8.95
Tie from £4.95

Skirt from £8.95
Knitwear from £7.95
Scarf from £6.95
Waistcoat from £7.95
Repleats from £14.25
Shirts (wet clean) from £3.95

Contact:
Working Hours:
Mon-Fri: 8am - 4pm
Sat: 8:30am - 4pm
Sun: Closed
TBR® Inspection Report: