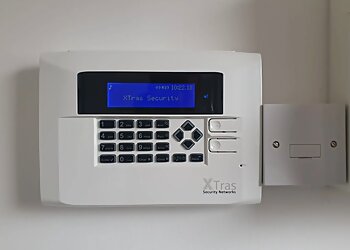 XTras Security Networks Ltd. is a family-run business based in Newcastle Upon Tyne. They specialise in Door Access systems, covering everything from simple installations to complex setups. Additionally, they offer CCTV services and excel in designing data networks, data points, and external security solutions for both residential and commercial properties. Their comprehensive range of services includes installation, upgrades, maintenance, and repairs, all carried out with a strong emphasis on safety to create secure environments for their clients. XTras Security Networks Ltd. provides a variety of intruder alarm options tailored to suit your specific premises. Moreover, they have introduced a new range of wired and wireless systems with state-of-the-art touch screen displays. While they have a strong presence in residential services, they have a diverse portfolio of commercial clients and expertly handle installations and maintenance for a wide range of projects and environments. They also design and install addressable and conventional fire alarms, customized to meet individual requirements.

UNIQUE FACTS:
• Over 26 Years Of Experience In This Industry
• Fully Trained And Certified
• Satisfaction Guaranteed.
Speciality:
Intruder, Fire Alarms, CCTV, Door Access, Service, Installation, Maintenance, Data Networking, Design, Data Networks Residential & Commercial
£Price:
Monitoring from 6.75 per Month

Contact:
Working Hours:
Mon-Fri: 9am - 5pm
Sat: 9am - 12:30pm
Sun: Closed
TBR® Inspection Report: