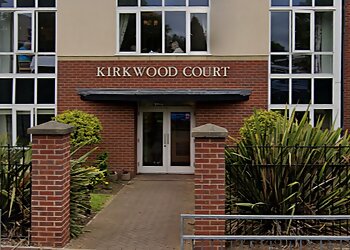 Kirkwood Court Care Home is a delightful purpose-built retirement care home located in the heart of Newcastle upon Tyne. It offers both residential and residential dementia care services. This inviting facility provides a range of tastefully decorated sitting rooms and dining areas for residents to select from. The expansive garden, attentively cared for by some of their residents, acts as a popular spot for leisurely moments with friends and family. Their extensively trained team is committed to delivering specialised care and support, with a central aim of providing the most compassionate care to enhance the quality of life for their residents. Kirkwood Court offers residential and memory care that is specifically tailored for those living with dementia. The retirement home features multiple well-furnished sitting rooms and dining areas. Residents are encouraged to personalise their rooms with their own furniture and cherished belongings, creating a homely ambiance. Their residential care homes prioritise individual lifestyle preferences and empower individuals to lead fulfilling and inspiring lives through considerate and sensitive care.

UNIQUE FACTS:
• Best Care Facilities
• Wheelchair Accessible
• Hassle Free.
Speciality:
Swimming, Recreational Activities, Celebrate Special Occasions, Multiple Sclerosis, Spa, Wi-Fi, Fitness Class, Arts and Crafts Club, Patio, En-Suite, Quiet and Premier Rooms, Lounge, Hair Salon and TV Point, Garden, Lift, Lounge & Patio
Contact:
Working Hours:
TBR® Inspection Report: