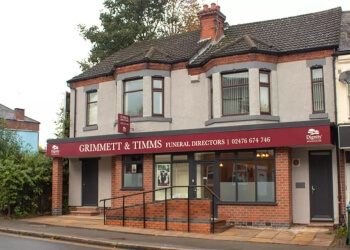 CALL
GRIMMETT & TIMMS FUNERAL DIRECTORS
Since 1934
Grimmett & Timms Funeral Directors in Coventry stands as a pillar of support for the local community during their most challenging times. Their experienced team is proficient in accommodating diverse cultural and religious preferences to create a personalized and bespoke funeral for your loved one. They provide comprehensive guidance throughout the entire process, from registering the death to offering local expertise, prepaid funeral plans, and more. Their attentive approach ensures that they carefully listen to your wishes and adhere to them precisely. Furthermore, they offer a dedicated wash and dress facility for Hindu and Sikh families in the city. Conveniently located, they serve families in Coventry City Centre, Chapel Fields, Spon End, and the surrounding areas.

UNIQUE FACTS:
• Expert Funeral Directors
• All Faiths And Cultures
• Local Crematorium.
Speciality:
Funeral Vehicles and Arrangements, Memorials, Coffins, Tributes, Limousine, Chapel, Urns, Hearse for Floral Tributes, Bespoke Transport Options, Cremation, Burial & Prepaid Funeral Plans
£Price:
ATTENDED FUNERAL (funeral director's charges only): £2,295
Legal and administrative arrangements: £857
Collection and transportation of the deceased: £218
Care of the deceased person before the funeral: £603
Suitable coffin (wood effect veneer): £250
Viewing of the deceased person: £5
Transportation to cemetery or crematorium: £362

Contact:
Working Hours:
Mon-Fri: 9am - 5pm
Sat & Sun: Closed
TBR® Inspection Report: