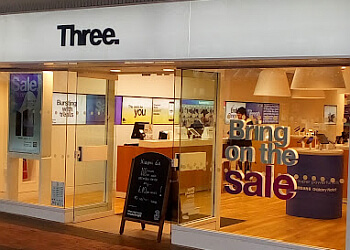 CALL
THREE BIRKENHEAD II
Since 2003
Three Birkenhead II is a hub for brand-new mobile devices and accessories, catering to a diverse range of customer needs. Their team of professionals is meticulously trained to provide secure and reliable services to their clients, underlining their commitment to safety and customer satisfaction. One notable feature of their service is the convenience of a free door delivery service, allowing customers to acquire their favourite mobile phones with ease and without the need to visit the physical store. Their technical staff members are marked by their attentiveness and friendliness, consistently aiming to provide a first-class customer service experience. In addition to their extensive inventory and customer service, Three Birkenhead also offers valuable support and guidance to address various mobile-related issues, ensuring that customers have access to solutions for their concerns. The store's location in Pyramids Shopping Centre enhances accessibility for shoppers, and it's reassuring to note that their stores have implemented additional safety measures to prioritize the well-being of customers. As part of the widely recognized 'Three' shop network, Three Birkenhead II aligns with the brand's commitment to excellence and has multiple branches throughout the UK, ensuring customers nationwide can benefit from their services.

UNIQUE FACTS:
• Replacement Sim In-store
• Fastest 5g Network
• Save Up To £620 On Trade-in.
Speciality:
iPhone, Samsung, Honor, LG, Windows, Sony, Huawei, Android and iOS Operating Systems Phones, Motorola, Razer, Mobile Broadband and Tablets, Blackberry, Technical, Device and SIM Support, SIM, Topup, Upgrades, Wi-Fi Data, Add-Ons & Data Plans
Contact:
Working Hours:
Mon-Sat: 9am -5:30pm
Sun: 10am - 3:30 pm

TBR® Inspection Report: