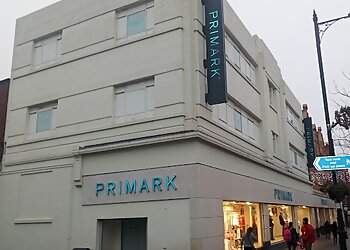 Primark Birkenhead is a prominent international clothing retailer chain located in Wirral, United Kingdom. The store offers a wide range of products catering to various demographics, including babies, women, men, as well as homeware and accessories. Their extensive selection encompasses high-quality essentials and stylish fashion choices, appealing to trendsetters and multi-generational families alike. Primark is the go-to shopping destination for this season's fashion essentials. It is beloved by fashion enthusiasts and value-conscious shoppers alike, offering a wide array of products to suit various tastes and preferences. In their store, you can explore the latest trends in women's, men's, and children's fashion, along with lingerie, beauty products, and homeware items. Primark is committed to making sustainable fashion accessible and affordable for everyone, reflecting their dedication to environmentally responsible practices. As part of their commitment to customer convenience, they offer additional amenities such as free Wi-Fi, complimentary parking, a pre-loved clothing recycle box, and wheelchair access. To cater to diverse shopping preferences, they also provide gift vouchers, allowing you to indulge your fashion desires.

UNIQUE FACTS:
• Facilities:
• Click And Collect
• Parking
• Pre-loved Clothing Recycle Box
• Wheelchair Access.
Speciality:
Workwear, Sweatshirts, Hoodies, Boys and Girls Wear, Jumpsuits, Playsuits, Sweaters, Sportswear, Tops, Jeans, Jackets, Trousers Bottoms, Pyjamas, Wallets, Dresses, Suits, T-Shirts, Socks, Lingerie, Jumpers, Coats, Skirts, Underwear, Trousers, Bags, Tights, Joggers, Swimwear, Beachwear, Shorts, 2-7 Boys and Girls Shoes & Shirts
£Price:
WOMEN:
Trousers & Leggings Starts from £18.00
Jumpers & Cardigans Starts from £23.00
Tops & T-Shirts Starts from £4.00
Coats & Jackets Starts from £28.00
Boots Starts from £20.00
MEN:
Joggers Starts from £6.00
Trousers Starts from £18.00
Kem Starts from £12.00
Hoodies & Sweatshirts Starts from £20.00

Coats & Jackets Starts from £12.00
KIDS:
Tops & T-shirts Starts from £6.00
Jumpers & Cardigans Starts from £7.00
Coats & Jackets Starts from £14.00
Trousers & Leggings Starts from £8.75
Hoodies & Sweatshirt Starts from £9.00

Contact:
Working Hours:
Tue-Fri: 9am - 5:30pm
Sat: 9am - 6pm
Sun: 10:30am - 4:30pm
Mon: Closed
TBR® Inspection Report: