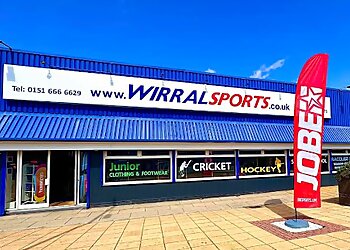 Wirral Sports and Leisure, an independent, family-run sports shop on the Wirral, boasts over 43 years of experience in the field. As one of the UK's largest independent sports retailers, they have a team of friendly and knowledgeable staff dedicated to assisting clients in selecting the right products. Wirral Sports and Leisure proudly features top brands like 1000 Mile, Adidas, Apeks, Arena, Aqualung, Aquashere, Asics, Barts, Beaver, and more. Their extensive product range for women's sports includes items for swimming, fitness, and racquet sports, along with a diverse selection of clothing and footwear. Additionally, Wirral Sports and Leisure provides convenient online delivery services, reaching customers across the United Kingdom.

UNIQUE FACTS:
• Leading Brands At A Low Price.
• Staff Support That Is Effective.
• Klarna Is Available.
Speciality:
Boxing: Gloves, Training Equipment and Footwear, Clothing, Football: Boots, Clothing, Balls, Accessories, Shin Pads, Cricket: Bags, Balls, Bats, Batting Gloves, Racket: Badminton, Tennis, Basketball and Canvas Shoes, Boots, Football, Hockey Bat and Boots, Hi-Tops, Indoor Football Trainers, Golf: Clubs, Shoes, Gloves & Clothing
£Price:
Football Boots:
Puma Future Play Mx Sg Football Boot White-Fire/orchid: £50.78
Puma King Senior Hero 21 Fg Football Boot - Black/white (106554): £55.86
Optimum Infant Tribal Moulded Football Boot - Red: £ 5.2
Girl's Footwear:
Skecher Girls Dream Dancer Minimal Trainer Purple/navy: £ 9.48
Skechers Girls Summit Special Trainers: £ 4.56
Skechers Girls Bob Squad Fresh Delight Trainer: £ 2.35

Contact:
Working Hours:
Mon-Sat: 9am - 5pm
Sun: Closed
TBR® Inspection Report: