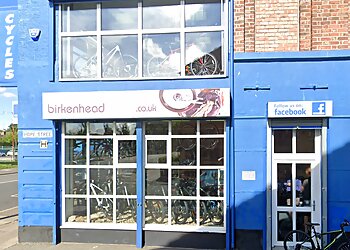 Birkenhead Cycles is currently in the hands of the third generation of the same family that initially supplied steel bicycles to the cycle commuters of Birkenhead during a time when bicycles dominated the roads. The store boasts an extensive inventory of Bikes, Accessories, and Clothing. Their professional workshop, staffed by qualified technicians, delivers specialized services such as bike repair and fitting. They pride themselves on providing expert same-day servicing with a spacious workshop and service centre. Birkenhead Cycles offers top-of-the-line bikes, apparel, and gear and extends additional services like bike fitting and tune-ups. Their expertise isn't confined to specific brands; they offer maintenance and repairs for bikes of all makes.

UNIQUE FACTS:
• 0% Finance Available In Store.
• Excellent Customer Service.
Speciality:
Road, Trek, Wheels, Electric, Lights, Components, Tyres, BMX, Folding, Mountain, Hybrid, Leisure, Helmets, Clothing, Accessories & Maintenance
£Price:
Scott Speedster Gravel 30 2021 - £1550
Trek Verve 1+ 500wh Lowstep - £2350
Trek Fx + 2 2023 - £2250
Trek Roscoe 8 - £2720
Trek Rail 7 2022 - £5800

Discount:
Cyclescheme Save up to 42% on your next bike
Contact:
Working Hours:
Mon,Tue, Thu & Sat: 9am - 5pm
Wed: 10am - 6pm
Sun & Bank Holiday: Closed
TBR® Inspection Report: