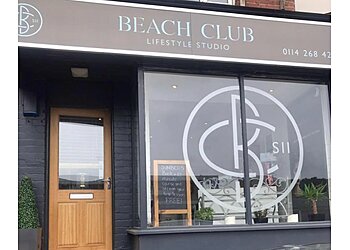 Beach Club Beauty Salon stands as a prominent beauty salon in Sheffield, offering an extensive range of services at attractive prices. Their offerings span from manicures and spray tans to various hair removal services. Notably, the salon is renowned for its specialized lash and eyebrow treatments, making it a highly recommended destination for beauty treatments. Brigitte is the proficient beauty therapist at Beach Club Beauty Salon, accompanied by Halle and Laura Drabble who also contribute their expertise to the salon. This friendly and professional team is dedicated to ensuring clients receive the best possible treatments, providing advice based on their extensive experience, leaving you feeling and looking fabulous after each visit. Established and well-regarded in the area, Beach Club Beauty Salon is the go-to choice for all beauty needs. Conveniently located near public transport routes, it offers accessibility and excellence in beauty services.

UNIQUE FACTS:
• Have Plenty Of Local Parking
• Providing Quality Services.
Speciality:
Gel Removal, Nails, Eyebrows and Eyelashes, Microblading, LVL Lashes, Eyelash Extensions, Manicures, Pedicures, Threading, Waxing, Massage, Dermaplaning, Express Dermaplaning Facial & Spray Tanning
£Price:
FACIAL:
Express Dermaplaning Facial 45 mins £55
Deluxe Dermaplaning Facial 1 hr 20 mins £80
Express Facial 30 mins £33
PEDICURE:
File & Polish - Fingers 45 mins £20
Polish Manicure 50 mins £25
Gel Finish on Fingers 45 mins £27
Gel Manicure 1 hr from £30
Gel Removal 30 mins £10
File & Polish - Toes 45 mins £20

Polish Pedicure 45 mins £30
Gel Finish on Toes 45 mins £27
Gel Pedicure 1 hr £40
Gel Removal 30 mins £10
MANICURE:
File & Polish - Fingers 45 mins £20
Polish Manicure 50 mins £25
Gel Finish on Fingers 45 mins £27
Gel Manicure1 hr from £30
Gel Removal 30 mins £10
THREADING:
Eyebrows 15 mins £10
Upper Lip 15 mins £10
Chin 15 mins £10
Sides of Face 20 mins £15
WAXING:
Facial Waxing 15 mins £10
Bikini Wax (strip wax only) 20 mins £20
Half Leg 30 mins £22
Full Leg 1 hr £28
Full Arm 30 mins £22
Half Arm 20 mins £18

Contact:
Working Hours:
Tue-Fri: 10am - 7pm
Sat: 10am - 5:30pm
Sun & Mon: Closed
TBR® Inspection Report: