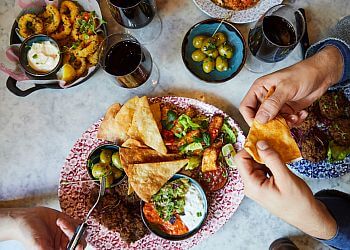 'Bill's' offers distinct menus for breakfast, afternoon tea, lunch, and dinner. Their eclectic British cuisine is crafted from the freshest seasonal ingredients. For the younger guests, there are delightful options such as Cod Fish Fingers and Chips, Little Bill's Hamburger, Buttermilk Pancakes, and Beans on Toast, all available on a two-course menu for just £5.95. 'Bill's' is renowned for its signature dishes, including the Bill's Fish Finger Sandwich, Crab Cakes, Pan-Fried Chicken with Wild Mushroom, and Eggs Benedict with Fries. The restaurant caters to various dietary preferences with its vegan, vegetarian, and gluten-free menu choices. Additionally, 'Bill's' provides complimentary Wi-Fi for its patrons.

UNIQUE FACTS:
• Dine-in
• Located In: Gloucester Quays
• Reservation
• Free Parking Facility.
Speciality:
MUST TRY DISHES: Bacon Roll, Sausage Roll, Apple, Maple and Cinnamon Porridge, the Garden Plate, Traditional Breakfast, Eggs Royale, Bill's Big Brunch, Buttermilk Pancake Fruit 5 Stack, Classic Eggs Benedict with Fries, Buttermilk Pancake Bacon 5 Stack, Bill's Classic Burger, Buttermilk Chicken Burger, BBQ Bourbon Burger, Bill's Truffle Chicken Two Ways, Bill's Fish Pie, Seafood Linguine, Santorini Salad, Classic Chicken Caesar & the Hippy Bowl
£Price:
Breakfast Starts from £4.95
Extras Starts from £1.95
Brunch Starts from £9.95
Smaller Plates & Sharing Starters Starts from £3.75
Mains Starts from £13.95
Salads & Plant-Based Starts from £13.50
Sides Starts from £3.95
Desserts Starts from £5.95
Desserts Starts from £3.95

Contact:
Working Hours:
Mon-Wed: 8am - 10pm
Thu-Sat: 8am - 11pm
Sun: 9am - 10pm

TBR® Inspection Report: