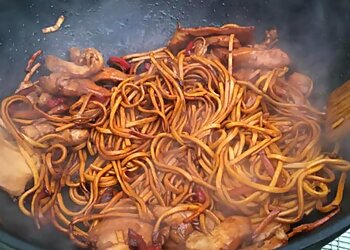 The White Horse, situated in Gloucester, is an authentic Chinese restaurant. Located in Sandhurst, Gloucester, this establishment offers both dine-in and takeaway options. They feature an all-you-can-eat lunch special for diners who choose to eat in. Conveniently, the restaurant is situated close to Gloucester City Centre. The skilled chefs at Gloucester City Centre specialize in crafting mouthwatering Chinese dishes. Some of their chef's signature creations include Sizzling Seafood Satay, Lemongrass in Coconut & Peanut Sauce, Sizzling Fillet of Beef with Black Pepper, and Sizzling Roast Duck with Black Bean Sauce. Every meal served at the restaurant is freshly prepared to order. To secure your table, you can make a reservation through their website.

UNIQUE FACTS:
• Dine-in
• Takeaway
• Home Delivery
• Free Prawn Crackers over £23
• Free Parking Facility.
Speciality:
MUST TRY DISHES: ROAST DUCK DISHES: Roast Duck with Mushrooms, Roast Duck with Pineapple, Roast Duck with Spring Onions and Ginger, Roast Duck with Beansprout and Barbecue Sauce, Roast Duck with Green Peppers and Black-Bean Sauce, Roast Duck with Cashew Nuts, Roast Duck with Bamboo Shoots and Water Chestnuts, Roast Duck with Mixed Vegetables, Roast Duck with Vegetable and Plum Sauce, Roast Duck with Hoi Sin Sauce & Kung Po Duck
£Price:
Starters Starts from £2.80
Soups Starts from £3.80
Spare Ribs Dishes Starts from £7.80
Sweet & Sour Dishes Starts from £7.70
Curried Dishes Starts from £7.70
Fried Rice Dishes Starts from £4
Chow Mein Dishes Starts from £5.70
Chop Suey Dishes Starts from £7.70
House Special Starts from £8.80
Roast Duck Dishes Starts from £8.60
King Prawn Dishes Starts from £8.70

Chicken Dishes Starts from £7.70
Beef Dishes Starts from £7.80
Roast Pork Dishes Starts from £7.70
Foo Yung Dishes Starts from £6
Vegetarian Dishes Starts from £7.40
Extra Portions Starts from £2.90
Set Meals Starts from £13.60

Discount:
20% Offer on orders over £25
Contact:
Working Hours:
Mon: 12pm - 9:30pm
Wed & Thu: 12pm - 2:30pm|4:30pm - 9:30pm
fri & Sat: 12pm - 2:30pm|4:30pm - 10pm
Sun: 12pm - 3pm|4:30pm - 9pm
Tue: Closed
TBR® Inspection Report: