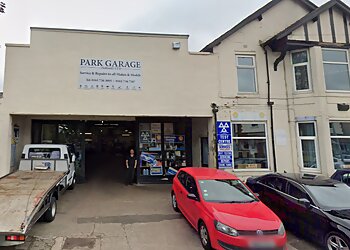 Park Garage is your local independent garage specialising in comprehensive car servicing and maintenance in Salford, with a track record of over 25 years in caring for both vehicles and light commercial vehicles. Their services cover all aspects of car maintenance and include a car recovery service. With a commitment to excellence, they ensure that their work meets the highest standards while remaining competitively priced. The experienced team at Park Garage is dedicated to swiftly guiding your vehicle through the MOT test procedure. They pride themselves on providing clear explanations of available choices and offering valuable, obligation-free advice on your car repairs. Park Garage serves as a genuine alternative to main dealer costs, delivering top-notch work at competitive prices. Their commitment to customer satisfaction extends to using original parts whenever possible. Park Garage offers free MOT re-tests and a convenient car recovery service as part of their customer-focused approach. Whether you need routine maintenance or more extensive repairs, Park Garage is your reliable partner for all things automotive.

UNIQUE FACTS:
• Vastly Experienced Mechanics
• Very Competitive Prices.
• Offer Valuable Free Advice
• Highest Standard Service.
Speciality:
Engine and Oil Filter Change, Air Filter Change, Pollen Filter Change, Replace Spark Plugs, Top Up Coolant Levels, Brake Pads, Re-Set Service Light, Tyre Pressures, Add Anti-Freeze, Check Lights, Mot's, Car Servicing, Car Repairs, Clutches, Engine Diagnostics, Fuel Injection, Brakes/shock Absorbers Exhausts, Tyres, Bodywork, Oil and Filter Changes, Preventative Vehicle Maintenance, Car Breakdown & Recovery Service
Contact:
Working Hours:
Mon-Fri: 8:30am - 5pm Sat: 8:30am - 12:30pm Sun: Closed
TBR® Inspection Report: