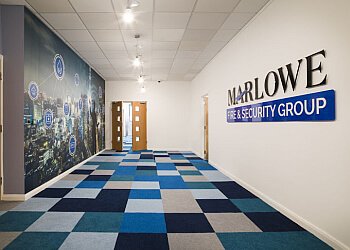 Marlowe Fire & Security provides comprehensive fire and security solutions with its headquarters in Salford. They diverse range of clients in the UK, including those in the commercial, public sector, and residential sectors. Their services cover the full spectrum, from design and supply to installation, continuous maintenance, and monitoring. These services are specifically focused on effectively preventing, detecting, and monitoring fire and security risks. Marlowe Fire & Security utilises state-of-the-art technology to offer an innovative solution that integrates the latest security technology for the detection and monitoring of unauthorized entry. Their Access Control solutions are designed to seamlessly incorporate, control, oversee, and authorize access. The company's steadfast commitment to compliance and best practices ensures strict adherence to industry standards and current legislation, providing customers with peace of mind. Marlowe Fire & Security customizes its fire and security solutions to meet the unique requirements of each customer, commencing with the initial design and installation and continuing with ongoing maintenance and monitoring. They deliver a comprehensive nationwide CCTV service to maintain 24/7 visibility of activities both inside and outside your premises.

UNIQUE FACTS:
• Nsi Nacoss Gold, Nsi Fire Gold, Bafe And Nsi Arc Gold
• 7,300 Customers
• 72,000 + Sites
• 90,000 + Systems Maintained
• 800 Employees.
Speciality:
Intruder Alarms, CCTV, Monitoring, Panic Alarm/Call Assist, Integrated Security, Access Control, Monitoring, Risers and Hydrants, Asset Tracking, Fire Detection, Fire Alarm Monitoring, Passive Fire Protection, Aspirating Systems, Fire Extinguishers, Sprinkler Systems, Kitchen Fire Suppression & Emergency Lighting
Contact:
Working Hours:
TBR® Inspection Report: