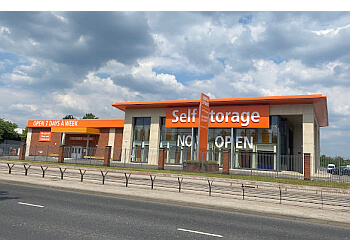 Lok'nStore Self Storage is a versatile solution serving a diverse clientele, including students, homeowners, renters, and business users. Their array of secure steel units comes in 19 different sizes, accommodating everything from small lockers to more substantial spaces suitable for pallet storage. When it comes to security and safety, Lok'nStore is second to none. They provide round-the-clock CCTV surveillance and have robust fire and smoke detection systems. The facility is fully staffed during their trading hours to assist and ensure your peace of mind. In terms of added conveniences, they offer a range of complimentary services, including free forklift assistance, free acceptance of deliveries on your behalf, and free customer parking. Moreover, there's no need for a security deposit, making the process hassle-free. Lok'nStore Self Storage caters to your every need with 24-hour accessibility to your storage units. Additionally, they provide essential moving supplies such as cardboard moving boxes and bubble wrap for sale, ensuring you have everything you require for a smooth and efficient storage experience.

UNIQUE FACTS:
• Free Delivery Acceptance
• No Security Deposit Needed
• Fully Staffed.
Speciality:
Self Storage, Business, Student, Packaging Material, Home, Container, Furniture Storage & Offices Space
Discount:
50% Off Salford Storage Units
Contact:
Working Hours:
Mon-Fri: 8:30am - 6pm
Sat: 9am - 4pm
Sun: 10am - 4pm
TBR® Inspection Report: