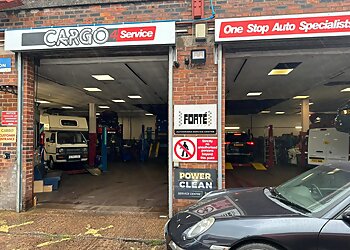 Cargo 4 Service Ltd. is a family-run motor trade business known for its team of main dealer-trained mechanics. Their mission revolves around assisting customers in minimizing their vehicle running costs, a commitment that underscores their dedication to delivering cost-effective solutions. With extensive knowledge and access to a broad spectrum of vehicle parts of OE (Original Equipment) quality, Cargo 4 Service is well-equipped to provide high-quality components, ensuring that each repair and maintenance service meets industry standards. The team at Cargo 4 Service consists of main dealer-trained technicians, each possessing a wealth of knowledge and skill derived from years of hands-on experience within the automotive industry. Cargo 4 Service takes pride in staying current with the latest advancements in the automotive field. To this end, they utilize state-of-the-art multi-make diagnostic equipment and tools, enabling them to diagnose issues with a wide range of vehicles, from Alfa Romeos to Volvos, with precision and efficiency. Cargo 4 Service offers a complimentary vehicle collection service within a 10-mile radius, further minimizing the disruption caused by vehicle issues. They are well-prepared to handle insurance work and warranty-related tasks, exemplifying their comprehensive service offerings. Cargo 4 Service proudly provides car repair services to the North Staffordshire, South Cheshire Area, and Nantwich, offering the assurance of quality and professionalism in every aspect of their work. Their capacity to handle warranty and insurance work underscores their commitment to being a one-stop destination for automotive solutions.

UNIQUE FACTS:
• Savings Of Up To 60%
• Full Parts/labour Warranty
• Warranty And Insurance Work
• Free Vehicle Collection Service.
Speciality:
Car and Van Servicing, Cambelt Replacement, Homestart and Recovery, Headgaskets, Welding and Fabrication, Air Conditioning and Re-Gas, Gearboxes, Engines, Bodywork and Paintwork, Exhausts and Catalytic Converters, Battery Servicing and Replacements, Brakes Checks, Repairs and Replacements, Breakdown Recovery, Diagnostics, Tyre Puncture Repairs and Tyre Fitting, Vehicle Tracking, Ecu Remapping, Diesel Particulate Filter Replacement and Diagnostic Services, Engine Tuning and Conversion, Diesel Fuel Injection, Mot Repairs, Oil Change and Service, Steering Adjustment, Full Porcshe Diagnostic Kit, Insurance Work, Vehicle Inspection, Wheel Balancing & Alignment
Discount:
Save up to 60% on servicing costs off main dealer prices on any make or any model
Contact:
Working Hours:
Mon-Thu: 8:30am - 5:30pm
Fri: 7:30am - 4:30pm
Sat & Sun: Closed
TBR® Inspection Report: