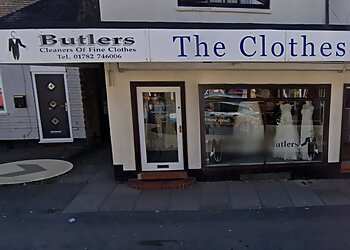 Butlers Specialist Dry Cleaners is a renowned dry cleaning establishment in Stoke-on-Trent. They take pride in offering a personalised service that sets them apart. Each of their team members possesses extensive qualifications and provides reliable guidance. Their expertise primarily lies in the field of cleaning and stain removal, delivering high-quality cleaning solutions for a wide range of clothing items. Whether it's delicate fabrics or luxurious evening wear, they have the skills necessary to handle every type of garment. Their dedication to personalised service remains steadfast. Their staff's proficiency extends to the use of fabric-friendly cleaning materials that ensure your clothing remains unharmed. They consistently provide outstanding dry cleaning services to all their customers. The scope of their top-notch cleaning services covers almost all types of clothing, demonstrating their versatility. Their team has years of experience and is unwavering in their commitment to offering only the best. These exceptional services are readily available to customers in Stoke, showcasing their dedication to excellence.

UNIQUE FACTS:
• Family Run Business
• Fully Qualified Staff
• High Quality Cleaning Services.
Speciality:
Stain Removal and Press Service, Ironing, Evening Gowns, Wedding Dresses Cleaning, Preservation, Boxing, Cushion Covers, Duvets, Blanket, Suits, Jackets, Bed Linen, Self-Service Washers, Dryers, Alterations, Laundry, Curtains & Soft Furnishings
Contact:
Working Hours:
Mon-Fri: 8am - 5pm
Sat: 9am - 1pm
Sun: Closed
TBR® Inspection Report: