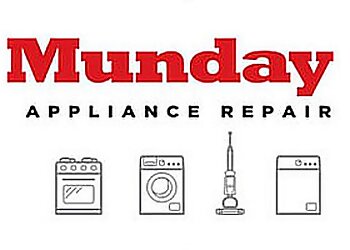 Mundays Appliance Repairs is a leading electrical repair service in Northampton, UK, and is dedicated to delivering prompt, efficient, and professional services at competitive prices. Their team adopts a professional and friendly approach, providing expert advice on any appliance concerns you may encounter. Specializing in repairing vacuum cleaners, washing machines, tumble dryers, dishwashers, and electric ovens, Mundays Appliance Repairs caters to all makes and models of domestic household appliances. Their focus extends to efficient vacuum cleaner repairs, ensuring optimal machine performance. Committed to offering a service that is both prompt and professional without compromising quality, Mundays Appliance Repairs has the expertise to address your issues in a timely and efficient manner, providing reliable solutions for all your repair needs.

UNIQUE FACTS:
• Friendly & Professional Service
• 6 Months Guarantee
• Competitive Prices
• Quotations.
Speciality:
Washing Machines, Tumble Dryers, Dishwashers, Electric Ovens, Kitchen Aid Food Mixers & Vacuum Cleaners
£Price:
Freestanding Appliances Start from £60
Integrated Appliances Start from £70
Electric Ovens Start from £60

Contact:
Working Hours:
Mon-Sat: 9am - 5pm
Sun: Closed
TBR® Inspection Report: