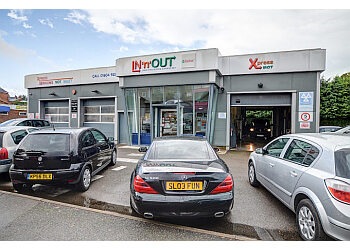 IN 'n' OUT Centres Ltd. is your go-to destination for affordable, professional, and dependable MOT testing and car servicing, all while upholding the highest standards of quality. Specialising in a wide range of automotive services, including car servicing, MOT testing, brakes, tires, and air-conditioning, they are committed to delivering top-notch service to their valued customers. Their team of technicians undergo rigorous training to ensure their expertise. At IN'n'OUT Autocentres, they utilise cutting-edge diagnostic equipment and source parts that either meet or surpass original manufacturer specifications, with all parts carrying a solid guarantee. Impressively, they can complete an MOT test within just 90 minutes while providing you with invaluable recommendations and advice. Moreover, their facilities offer complimentary coffee, high-speed Wi-Fi, and convenient parking options. The skilled technicians at IN'n'OUT Autocentres can handle tasks extending far beyond tire replacement or oil changes. They back their work with a 12-month warranty on all parts and servicing, ensuring peace of mind for their customers. The commitment to customer satisfaction is unwavering, demonstrated through transparent, fixed pricing and exceptional service. IN'n'OUT Autocentres even extends the courtesy of a free re-test within a ten-day window, further showcasing their dedication to quality and customer care. They have three branches in Northampton on Towcester Road, Brackmills & Kettering Road.

UNIQUE FACTS:
• Fully Synthetic Oil Supplement Notice
• Centre Facilities Highspeed Wi-fi
• Easy Parking
• Baby Changing Facilities.
Speciality:
Brake Services, Inspection, Fluid Change, 4 Wheel Laser Alignment and Tracking, Flat Tyre Repair, Air-Con Re-Gas, Batteries, Tyre, Bulbs and Wiper Blades, Oil Change, Brake, Mot, Gearboxes, Winter Tlc Service & Air Conditioning
£Price:
Service from £19 (when Booked )
Brake Fluid Change from £39.95
Fuel-Saver Treatment from £19.95
Wheel Laser Alignment Service from £64.95 ( Inc. Parts & Labour)
Any Service from £19.95
Interim Service Only £135
Full Service Only £219
Interim Service + MOT Test only £248
Full service + MOT only £213

Contact:
Working Hours:
Mon-Fri: 8:30am - 5:30pm
Sat: 8am - 5pm
Sun: Closed
TBR® Inspection Report: