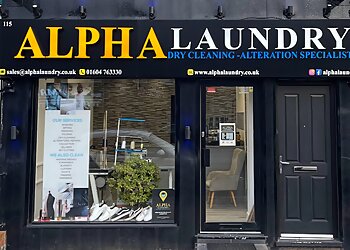 Alpha Laundry and Dry Cleaners is recognised as the leading authority in dry cleaning services in the Northampton region. Their dedication to providing a premium dry cleaning experience is founded on their extensive expertise, unwavering professionalism, and reliable service. When it comes to delicate fabrics that demand special attention, their skilled professionals are well-prepared to handle your items with the utmost precision. In the realm of bridal wear, they ensure the delivery of high-quality services at remarkably competitive prices. You can place your full confidence in the capable team at Alpha Laundry & Dry Cleaners for all your wedding attire requirements. Every garment entrusted for dry cleaning undergoes a thorough three-stage process, ensuring a superior and flawless result. Additionally, alongside their proficiency in dry cleaning, Alpha Laundry & Dry Cleaners also provides a diverse range of clothing alterations and repair services at highly competitive rates throughout Northampton. When seeking top-notch dry cleaning services that instill trust in Northampton and its surrounding areas, Alpha Laundry & Dry Cleaners is the premier choice. Their offerings are customised to meet the distinct needs of individuals and businesses, all while keeping affordability in mind. Furthermore, they offer the convenience of collection and delivery services to your residence or office, ensuring that your garments receive the utmost care with the greatest convenience.

UNIQUE FACTS:
• 30 Years Of Experience
• Latest Eco-cleaning Technology.
Speciality:
Dry Cleaning, Jackets, Trousers, T-shirts, Knitwear, Wedding Dresses, Suits, Shirt, Alterations, Collections, Delivery, Commercial, Sports Kit, Bed Linen, Curtains, Duvet, Pillows, Throws, Blankets, Toppers, Key Cutting & Laundry
£Price:
Suit - two-piece from £16.99
Suit - three-piece from £19.99
Jackets / Blazers from £9.99
Trousers from £8.99
Shirts from £4.99
Ties from £5.99

Contact:
Working Hours:
Mon-Thu: 8:30am - 5pm
Fri: 8:30am - 4pm
Sat: 10am - 1pm
Sun: Closed
TBR® Inspection Report: