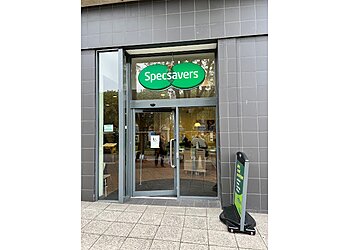 Specsavers, a chain of stores serving Plymouth and its surrounding areas, boasts a team of highly skilled and experienced opticians who are dedicated to offering comprehensive eye examinations and top-notch eye care services. They stock a wide range of designer brands across various styles and price points, ensuring that customers can find their favorite eyewear options. At Specsavers, you'll find an optician team committed to delivering exceptional eye tests, addressing eye conditions, and providing comprehensive eye care services. High-quality eyewear is readily available at prices that won't stretch your budget. Additionally, they offer the convenience of receiving the results of adult eye tests within just five days. Furthermore, Specsavers goes above and beyond by providing a range of complimentary services, including free hearing tests, a one-month supply of free contact lenses, free ultraclear superclean treatment, and free thin + light lenses, ensuring customers receive exceptional value and care.

UNIQUE FACTS:
• In-store Shopping And Pick-up
• Platinum Employer Accredited
• Eye Tests At Home.
Speciality:
Daily-Lenses, Cataracts, Women's, Blepharitis, Eye Twitching, Myopia, Colour Lenses, Children's Eye-Care, Men's, Monthly Lenses, Dry Eye-Syndrome, Adult Eye Care, Designer Glasses, Frames, Computer Eye Strain, Double Vision, Lazy Eye, Eyeglasses & Diabetic Retinopathy
£Price:
Contact Lenses Starts from £7.50
2 for 1 Glasses from £69
Polarising Lenses £59
2 for 1 Designer Glasses Starts from £99
2 for 1 Varifocal Glasses Range from £69 to £169

Discount:
25% Off On the Latest Designer Glasses for Students
20% Off On Glasses for Over 60's
50% Off Glasses with Contact
View Coupon
Contact:
Working Hours:
Mon,Wed-Sat: 8:45am - 6pm
Tue: 9:15am - 6pm
Sun: 9am - 6pm

TBR® Inspection Report: