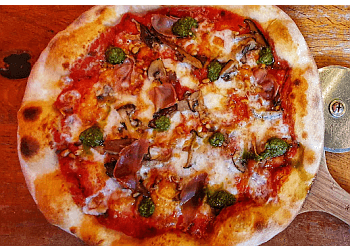 The Winchester Stable is one of Winchester's premier pizza restaurants in the UK. Renowned for their commitment to using fresh local ingredients, they specialize in serving pizza and pies. Nestled in the heart of Winchester, The Winchester Stable boasts an impressive selection of over 80 types of cider, making it a unique and vibrant culinary destination. Their daily preparation shows their commitment to freshness, as they craft sourdough pizza bases and signature tomato sauce every morning. Local sourcing is a priority for The Winchester Stable, with chefs obtaining pizza toppings from nearby suppliers. Notably, the menu is designed to be 100% animal-free, catering to vegans and vegetarians. Flexibility is key, allowing patrons to customize any pizza by omitting beef and cheese. For those looking to savour the experience, The Winchester Stable offers the convenience of reserving tables and inviting guests to enjoy their meals with family or friends. Whether opting for a dine-in experience or takeout, The Winchester Stable provides a variety of choices to suit different preferences.

UNIQUE FACTS:
• Cider Master Guidance
• Local Ingredient Sourcing
• Dine-in And Takeout Options
• Table Reservations Available.
Speciality:
MUST TRY DISHES: PIZZAS: Proper Margherita, The Meat, Hawaiian Five-Oh, Feelin' Clucky, The Blazing Saddle, BFC, Boss Pepperoni, Chorizo & Crumbled Sausage Sizzler, Burger On The Dancefloor, Proper margherita, Hakuna Burrata, Mushroom Magic, Aubergine Kenobi, SHARERS: Garlic Bread, Cheesy Garlic Bread, NACHOS: The OG, Chipotle Chicken, Pulled Beef, Salads: Goat's Cheese & Roasted Squash, Mac n cheeses, Tater tots, Sides & Puddings
£Price:
Sharers Starts from £5.5
Nachos Starts from £9.95
Sourdough pizzas Starts from £11.50
Salads Starts from £14.95
Mac n cheeses Starts from £13.95
Tater tots Starts from £4.50
Sides Starts from £4.50
Puddings Starts from £3.95

Contact:
Working Hours:
TBR® Inspection Report: