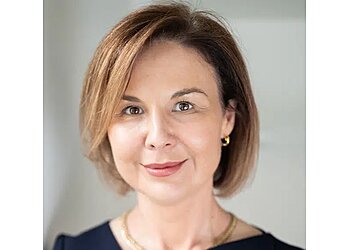 CALL
CONTACT
ANCA BREAHNA, MBBS, MRCS(ENG) PHD, MSC, FEBOPRAS, FRCS (PLAST) - NUFFIELD HEALTH CHESTER
Since 1999
Ms Anca Breahna is a highly accomplished Consultant Plastic Surgeon in Chester, specialising in Aesthetic and Reconstructive Surgery. Her educational journey began at the University of Bucharest, and she subsequently pursued her surgical training, predominantly in the United Kingdom. She further honed her skills through Plastic, Reconstructive, and Aesthetic Fellowships at internationally renowned Centers of Excellence in the UK and Australia. Her research is centred on reconstructive surgery and hand surgery, and her dedication to advancing medical knowledge has earned her a PhD for her work in free tissue transfer and an MSc for her research in hand surgery. Ms. Breahna's specialised expertise lies in several areas, including breast reconstructive surgery, skin cancer surgery, hand surgery, and the reconstruction of soft tissue defects resulting from injuries. In addition to providing in-person consultations, she offers the convenience of video consultations, ensuring accessibility for her patients. Presently, Ms. Breahna holds the esteemed position of Consultant Plastic and Reconstructive Surgeon at the Countess of Chester NHS Foundation Trust, where she serves with dedication and expertise. She also maintains practising privileges at Nuffield The Grosvenor in Chester and Spire Murrayfield Hospital, making her services readily accessible to a wider range of patients.

UNIQUE FACTS:
• 24 Years of Experience
• Memberships:
• General Medical Council
• Fellow of The Royal College of Surgeons of England
• British Association of Plastic Reconstructive and Aesthetic Surgeons
• British Association of Aesthetic Plastic Surgeons
• International Society of Aesthetic Plastic Surgeons
• British Society for Surgery of The Hand
• Video Consultation.
Speciality:
Body Contouring, Fat Grafting, Breast Uplift (Mastopexy), Capsulectomy, Eye Lift, Breast Reconstruction and Reduction, Gynaecomastia (Male Breast Reduction), Arm Reduction (Brachioplasty), Breast Augmentation (Enlargement), Excision of Skin Lesion, Blepharoplasty (Eyelid Reshaping), Bone Graft & Hand Surgery
Insurance Accepted:
Simply Health, Cigna, Bupa, WPA, AXA PPP Healthcare, Aviva Health & Vitality Health
Contact:
Working Hours:
Mon-Fri: 8:30am - 8pm
Sat & Sun: Closed
TBR® Inspection Report: