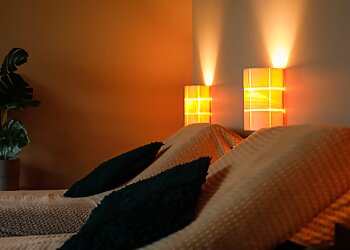 The Laguna Health & Spa is ideally located in central Cardiff, provides the perfect environment in which you can completely unwind and de-stress. This spa and wellness centre boasts a 20-meter indoor swimming pool, a spa bath, a steam room, comfortable poolside loungers, and a fully equipped gym. You can indulge in a wide range of opulent treatments with nine luxurious treatment rooms, including two with dual-room facilities. Surrounded by a picturesque backdrop of trees, 'The Laguna Health & Spa' also offers a tranquil relaxation area with comfortable beds where guests can unwind while awaiting their next session. The spa prides itself on providing friendly service and exceptional amenities such as an on-site concierge, wireless Internet access, and efficient air conditioning.

UNIQUE FACTS:
• Multi-award Winning Brand With Natural Ingredients
• Products Are Vegan And Eco-friendly.
Speciality:
Glow Full Body Exfoliating Treatment, Aromatherapy Ultimate De-Stresser, Prescriptive Pevonia Facial, Detox Seaweed Wrap, Body Renew Exfoliation, Essential Hand and Foot Massage, Lighter Legs and Foot Massage, Urban Hot Stones, Prescriptive Manicure & Gel Manicure
£Price:
Prescriptive Pevonia Facial 50 Minutes £70
Prescriptive Age-Defying Facial 50 Minutes £80
Youth Renew Hydra-Glow Peel 50 Minutes £75
RS2 Facial 50 minutes £75
Detox Seaweed Wrap 50 Minutes £75
Body Renew Exfoliation Experiences 40 minutes £55
Saltmousse - Glow Full Body Exfoliating Treatment 40 minutes £55
Aromatherapy Ultimate De-Stresser
40 Minutes £60.00
50 Minutes £70.00
80 Minutes £90.00

Back, Neck & Shoulder Massage + Essential Express Facial 50 Minutes £70.00
Body Renew Exfoliation & Back, Neck & Shoulder Massage 50 Minutes £70.00

Discount:
25% Off for guests who are validating their parking ticket at their spa reception
Contact:
Working Hours:
Mon-Sat: 7am - 9pm
Sun: 8am - 8pm
TBR® Inspection Report: