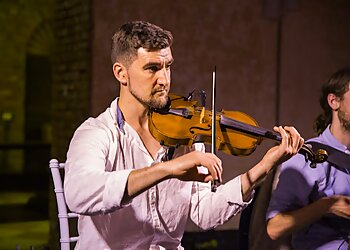 Bowreed is a premier wedding band service provider located in Bristol. Specializing in the traditional ceilidh style with a contemporary twist, they bring an energetic and lively atmosphere to your event that will get all your guests up and dancing. Whether it's a wedding, corporate function, or birthday party, Bowreed is there to deliver a unique musical experience that ensures everyone joins in the fun. With a team of highly talented and skilled musicians, Bowreed captivates audiences with their exceptional performances. They prioritize punctuality, allotting at least 60 minutes for the band to set up and conduct sound checks to ensure a seamless performance. Additionally, Bowreed offers an acoustic duo option, featuring tunes from Scotland, Ireland, and beyond, adding a touch of magic to your special day and making it a truly unforgettable moment. No matter the occasion, a ceilidh band is a fantastic choice for entertaining your guests, and Bowreed guarantees a packed dance floor that remains lively throughout the night.

UNIQUE FACTS:
• Personalised Disco Service
• Experienced Professional Ceilidh Band.
Speciality:
Weddings, Birthday, Festivals, Ceilidh Band, Burns Night, Christmas Party, Fundraiser, Parties, Corporate Functions & Disco Service
Contact:
Working Hours:
TBR® Inspection Report: