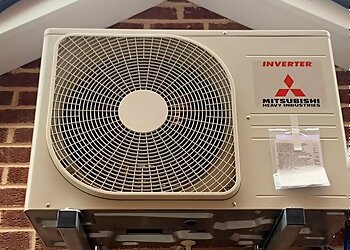 JR Cooling is a professional Air conditioning contractor in the Derby region. Their team is adept at suggesting the most suitable air conditioning units that align with your business requirements and financial considerations. Moreover, they can efficiently conduct professional commercial installations or repair services, ensuring minimal disruption to your daily business operations. JR Cooling delivers exceptional, top-tier cooling solutions throughout the East Midlands. With three decades of industry expertise, they are well-equipped to effectively address all your cooling needs, ranging from air conditioning repairs to planned maintenance. Operating as a 5-star customer-rated business, they are proud to offer competitive rates without compromising on the quality of their services. When it comes to enhancing the cooling infrastructure for your business, it is crucial to entrust a reliable engineer capable of providing comprehensive guidance and executing a diverse array of air conditioning services. Selecting the appropriate commercial air conditioning system can significantly enhance your operational efficiency and elevate the overall customer experience at your establishment while effectively regulating the interior climate for optimal comfort and productivity.

UNIQUE FACTS:
• Free Quotes
• On-site Visits
• 24/7 Maintenance & Support
• Highly-Skilled & Accredited Engineers
• Genuine Services.
Speciality:
Commercial, Residential, Air Conditioning Installation, Services, Maintenance, Repairs or Breakdowns & Refrigeration

Serving Locations:
Nottingham, Mansfield, Burton, Sheffield, Chesterfield, Loughborough, Leicester & Stoke
Contact:
Working Hours:
Mon-Fri: 8am - 5pm
Sat & Sun: Closed
TBR® Inspection Report: