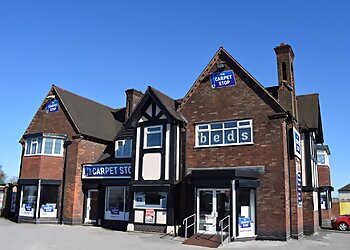 The Carpet Stop stands as a premier carpet and flooring retailer in Derby, United Kingdom. They specialize in supplying and installing a variety of flooring materials, including carpets, vinyl, luxury vinyl tile, and laminate flooring. With a team of highly experienced staff, they offer friendly advice to assist customers in selecting the perfect flooring designs. The company's excellence extends to top-notch carpet fitting and flooring installation services, ensuring a seamless and professional experience. Their expertise in the field guarantees that your carpet not only maintains its original appearance but also gains added protection against wear and tear. The Carpet Stop provides free carpet samples, allowing customers to examine them closely next to their home decor. To provide a stress-free and peace-of-mind experience, the company offers free estimates to customers. Additionally, they provide in-home consultations to help you select the carpet or flooring that best meets your needs.

UNIQUE FACTS:
• Free Quotation
• Free Carpet Samples
• Reliable Cost Estimates
• 100% Customer Satisfaction
• Flooring Consultation.
Speciality:
Carpets, Vinyl, Laminate, Lvt, Rugs, Beds, Artificial Grass & Roll Ends and Remnants
£Price:
Carpets Starts from £10.99 m²
Vinyl Starts from £8.99 m²
Roll Ends and Remnants Starts from £7.00
Luxury Vinyl Tile Starts from £17.99 m²
Laminate Starts from £18.99
Rugs Starts from £29.99
Artificial Grass Starts from £8.99 m²
Beds and Mattresses Starts from £54.99 – £109.99

Contact:
Working Hours:
Mon-Fri: 9am - 6:30pm
Sat: 9am - 6pm
Sun: 10am - 4pm
TBR® Inspection Report: