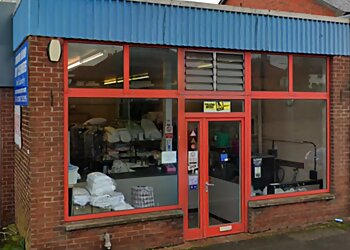 CALL
ANNAN ROAD DRY CLEANERS
Annan Road Dry Cleaners is a family-operated laundrette and dry cleaning establishment situated in Dumfries Galloway. Their cleaning process apart is the meticulous blend of high-quality products. Tailoring their garment cleaning methods to cater to the unique requirements of each item ensures the most suitable and effective cleaning for a variety of fabrics and materials. This careful attention assures optimal dryer performance and consistently maintains a clean and organized laundrette. The shop not only provides collection and delivery services but also boasts a team with extensive experience in the dry cleaning industry. Committed to quality, reliability, and a personable approach, they take pride in offering free collection and delivery services. Their ultimate aim is to ensure every customer is entirely satisfied with their dry cleaning service, all at an affordable price.

UNIQUE FACTS:
• Highly Qualified Staff
• Quality And Efficiency Services
• 100% Satisfaction Guaranteed.
Speciality:
Dry Cleaning, Laundry, Cushion Covers, Curtains, Suits, Bed Linens, Wedding Dress, Jackets & Trousers
Contact:
Working Hours:
Mon-Fri: 9am - 5pm
Sat & Sun: Closed
TBR® Inspection Report: