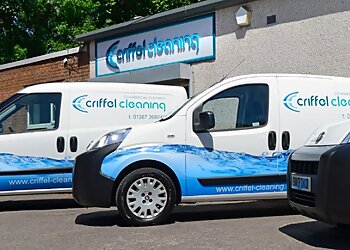 Criffel Cleaning Services Ltd. has been providing top-tier cleaning services in the Dumfries area. With a dedicated team of over 105 professionals, they strive to ensure that customers receive unparalleled services throughout the year. The hardworking team at Criffel Cleaning Services is committed to delivering work of the highest standard, managing over 90 local contracts. Each cleaning contract is supervised full-time to guarantee quality. The company firmly believes that the phrase 'service matters' encapsulates its organisational culture. They cater to businesses of all sizes, encompassing sports centres, car showrooms, offices, medical centres, and factories. Additionally, they offer disposable paper products and soaps for your premises.

UNIQUE FACTS:
• Iso 9001:2015 Accredited
• Safe Contractor Accredited
• Excellent Customer Service.
Speciality:
Office, Factories, Retail, Leisure Centre, Car Show Room, Medical Centres, Sports Centres, Solicitors, General & Commercial Cleaning
Contact:
Working Hours:
Mon-Fri: 8:30am - 4:30pm
Sat & Sun: Closed
TBR® Inspection Report: