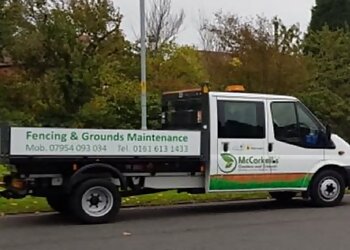 McCorkells Gardens and Grounds Ltd is a well-established Fencing Company in the Manchester region, specializing in ground maintenance services tailored for commercial properties. Wooden fencing not only adds an element of privacy but also enhances the aesthetic appeal of your outdoor space. Their dedicated team can help you improve your garden, creating a lasting impression on potential tenants or buyers. Their service portfolio includes garden clearance, fencing, weed control, hedge trimming, and tree removal. They offer a comprehensive range of domestic fencing services and have received recognition for their award-winning ground maintenance services, catering to schools, nurseries, hospitals, nursing and care homes, pubs, restaurants, apartment blocks, office buildings, and factories. You can rely on their experts to visit your property, understand your requirements, and provide a bespoke solution. Their fencing options can be tailored to meet your specific needs and budget constraints. They use lightweight materials to deliver high-quality wooden fencing services. Furthermore, their team can rejuvenate your garden, leaving a lasting impression on potential tenants or buyers.

UNIQUE FACTS:
• Award-winning Company
• Their Fencing are Customised Service
• Budget Friendly
• Get A Quote
• Get A Free Quotation.
Speciality:
Concrete Fencing, Timber Structure, Repair Existing Fences, Removal of Hedge, Tree Line, Weed Damage, Ground Maintenance & Fence Repairs From Lvy

Serving Locations:
Cheshire, Lancashire
Contact:
Working Hours:
Mon-Fri: 9am - 5pm
Sat & Sun: Closed
TBR® Inspection Report: