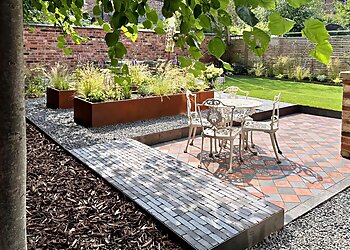 Bark Brick & Block LTD is one of the well-established landscaping design companies in the Manchester region. They provide on-site garden consultations, collaborating closely with the client to deliberate and cultivate design concepts, choose materials, and select plantings. Whether you're looking to rejuvenate an existing garden or embark on a fresh start, we'll craft a design brief that aligns with your requirements and lifestyle while harmonizing with the style and ambiance of your home. Their comprehensive construction service is designed to turn your dream garden into a reality, leveraging a team of highly skilled and seasoned landscapers along with carefully chosen sub-contractors. They specialize in various driveway surfaces and front-of-property installations, encompassing entrance steps, pillars, front walls, garden beds, attenuation crates, drainage systems, security bollards, electric and automatic entrance gates, and a wide range of driveway surfaces.

UNIQUE FACTS:
• Friendly & Professional Team
• Hassle-free Experience
• Quality Workmanship
• Skilled Team.
Speciality:
Gardens, Courtyards, Driveways, Retaining Walls, Water-Features, Concrete Features, Timber Decking and Bench Seating, Pergolas, Stonemasonry, Paving, Tiling, Garden Lighting, Electrics, Plant Design, Horticulture, Vegetable Gardens & Lawns
Contact:
Working Hours:
Mon-Fri: 8am - 6pm
Sat: 8am - 3pm
Sun: Closed
TBR® Inspection Report: