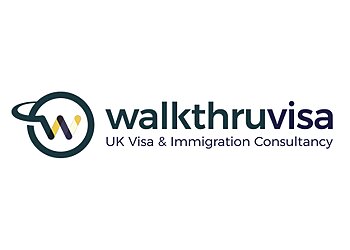 Walkthruvisa Ltd. is a UK government-regulated immigration consultancy. They provide individuals, families and organisations with transparent and customised assistance to navigate the complexities of the UK immigration system. They provide a wide range of UK visa services, including visa advice and consultation, UK visa application and document checking or completing the process of applying for a UK immigration visa on your behalf from start to finish. They are also pleased to discuss more customised services for companies, businesses and individuals and combine various elements of their services to meet their needs. They offer highly competitive rates for personalised and consistently 5-star rated services in the UK visa agency field, covering a wide range of UK visa categories from Ancestry, Skilled Worker, Global Talent, Students, Visitors and their dependants, through to Family Routes, Settlement (Indefinite Leave to Remain), Naturalisation and Citizenship.

UNIQUE FACTS:
• Personalised UK Immigration Services
• Affordable Prices.
Speciality:
Spouse and Family, Skilled Worker and Skilled Worker Sponsor Licensing, Temporary Workers, Students and Student Sponsor Licensing, Graduate Route, Global Talent and Visitors Through to Indefinite Leave to Remain, British Naturalisation & Citizenship
£Price:
Basic Consultation: £95/up to 30mins
Standard ?Consultation: £150/up to 60mins

Contact:
Working Hours:
Mon-Thu: 10am - 6pm
Fri: 10am - 4pm
Sat & Sun: Closed
Registration F201500995 | SC448707
TBR® Inspection Report: