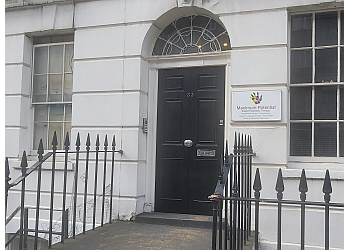 Maximum Potential excels in the realm of traditional pediatric clinical therapy in London. Established more than three decades ago by Melanne Maddalene Randall, Maximum Potential currently operates five well-established, transdisciplinary clinics in London. Within this clinic, you'll find a team of highly skilled occupational therapists working in conjunction with learning specialists to offer a comprehensive range of services within a warm and welcoming environment. Their primary focus revolves around sensory integration and neurodevelopmental treatment. Melanne, an active pediatric private therapist, specializes in Sensory Integration Therapy, emphasizing effective intervention delivered by exceptionally specialized practitioners using extensive vestibular and proprioceptive equipment. Their broad spectrum of services encompasses Occupational Therapy (OT), Sensory Integration, Speech and Language Therapy, Play Therapy, and Positive Parenting Programs. Additionally, they operate satellite clinics situated within schools across Europe, Russia, the UAE, Africa, and the USA.

UNIQUE FACTS:
• Treating Over 500 Children And Young People Each Week
• Accepts ASF And EHCP Provisions
• Offers Presentations And Staff Training For Schools.
Speciality:
Physiotherapy, Parental Counselling, Cognitive and Specific Learning Difficulty Assessments, Occupational, Speech, Language Playing, Learning Therapies, Clinical, Educational Psychologists, Motor, Functional, Sensory Abilities, Verbal Dyspraxia, Social Communication, Feeding, Swallowing Issues, Play Therapists, Vestibular Disorders, Self-Regulation, Modulation, Visual Perception, Auditory Defensiveness, Tactile Defensiveness, Hypotonia, Acquired Brain Injury & Downs Syndrome
Contact:
Working Hours:
Mon-Fri: 8am - 6pm
Sat: 9am - 4pm
Sun: Closed
TBR® Inspection Report: