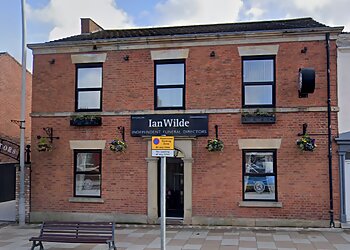 Ian Wilde Independent Funeral Directors represents a fourth-generation, independent funeral business. Their team is deeply committed to maintaining the high service standards associated with the Wilde family, regardless of the chosen funeral option. They ensure that the passing of your loved one is handled with utmost compassion and sensitivity. The team will engage in detailed discussions to explore all available options and tailor the funeral arrangements to your specific needs and requirements. Ian Wilde is an esteemed member of the National Association of Funeral Directors, and they take pride in being part of a family known for delivering top-quality and compassionate funeral care to families in the surrounding area. The team's primary focus is on providing families with exceptional service levels, creating a family-like atmosphere, and delivering dedicated, personalized care.

UNIQUE FACTS:
• Traditional Approach
• Dedicated Team
• Crematorium Options.
Speciality:
Death Registration, Direct Cremation, Legal Advice, Obituaries, Music, Acknowledgement Notices, Special Requirements, Funeral Planning and Arrangements, Memorial, Floral Tributes, Chapel of Rest, Non-Religious, Religious Service, Embalming, Cremated Remains, Coffins, Caskets, Burial, Order of Service, Catering, Flowers & Graveside Support
£Price:
Legal and Administrative Arrangements: £550.00
Collecting and Transporting the Deceased: No charge
Care of the Deceased: £610.00
Preparation and Hygienic Treatment: £125.00
Oak Veneer Coffin: £395.00
Transport to Cemetery or Crematorium: £220.00 Simple funeral £1700.00 (plus disbursements)
Direct cremation £1200

Contact:
Working Hours:
TBR® Inspection Report: