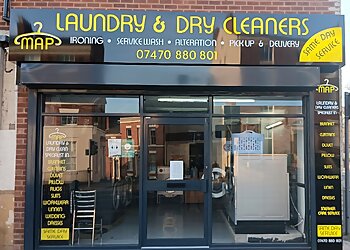 CALL
MAP LAUNDRY AND DRY CLEANER
Map Laundry and Dry Cleaner stands out as a renowned dry cleaning service in Preston. They prioritising both service and quality. Through unwavering dedication, they have earned a stellar reputation for their exceptional services. This dry cleaning establishment ensures swift service with a rapid turnaround time, coupled with highly competitive rates. Specialising in laundry and dry cleaning, they excel in providing professional cleaning and ironing services. Committed to offering optimal after-care for garments and household fabrics, their laundry service is tailored to meet individual needs. The skilled team of professional tailors guarantees the creation of high-quality, made-to-measure clothing, personalised to unique sizes, physiques, and styles. The friendly staff goes above and beyond to care for customers' belongings, delivering top-notch cleaning quality and exceptional customer service.

UNIQUE FACTS:
• Best Quality
• Brighter, Fresher & Cleaner Clothes
• 100% Customer Satisfaction.
Speciality:
Dry Cleaning, Shirt, Pants, Shorts, Tie, Socks, Saree, Shawl, Skirt, Uniform, Wedding Gown, Household Items, Laundry, Ironing & Alterations
Contact:
Working Hours:
Mon-Sat: 7am - 8pm
Sun: 9:30am - 7pm
TBR® Inspection Report: