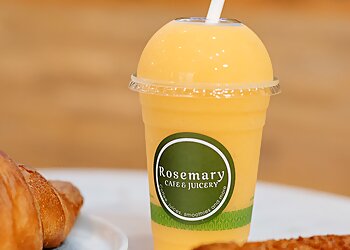 Rosemary Crouch End stands out as a renowned juice bar and health-conscious eatery in Crouch End, London, United Kingdom. Every mixture is crafted from a medley of fresh fruits, vegetables, and ingredient combinations thoughtfully designed to meet specific nutritional needs. Rosemary Crouch End boasts a network of four branches throughout London, making their wholesome offerings easily accessible. For those with dietary preferences and restrictions, including vegans, vegetarians, and those seeking gluten-free options, Rosemary Crouch End has a diverse menu to cater to various dietary needs. Whether you're searching for a revitalizing detox or a post-workout refuel, their menus, featuring pure greens, fruity greens, and milkshakes, cater to your well-being and taste buds.

UNIQUE FACTS:
• Organic Healthy Food
• Organic Ingredients
• Biodegradable And Compostable Packaging Products.
Speciality:
JUICES: Ginger and Lime, Immunity Booster, Reboot, Fresh and Fruity, Apple, Classic Zing, Bloody Orange, Vitamin C Booster, Detox Zinger, Appinger, Prime Cooler, Cool and Spicy, Robust, ABC and G, 3C and G, ABC, Beet Basic, Liquid Lunch, Cholesterol Buster, Cooler, Orange, Carrot, Celery, Apple, FRUITY GREENS: Lean and Mean, Red Zing, Sweet Green, Green Delight, Berry Green, Re-Set, Purify, Essentials, Balanced & Dense Green
£Price:
Juices - 500 ml:
Ginger & Lime - £6.50
Immunity Booster - £6.50
Reboot - £6.50
Fresh And Fruity - £6.50
Apple Zing - £6.50
Classic Zing - £6.50
Bloody Orange - £6.50
Vitamin C Booster - £6.50
Detox Zinger - £6.50
Appinger - £6.50

Prime Cooler - £6.50
Cool & Spicy - £6.50
Robust - £6.50
Abc & G - £6.50
3C & G - £6.50
ABC - £6.50
Beet Basic - £6.50
Liquid Lunch - £6.50
Cholesterol Buster - £6.50
Cooler - £6.50
Orange Juice - £6.00
Carrot Juice - £6.00
Celery Juice - £7.00
Apple Juice (500ML) - £6.00

Contact:
Working Hours:
TBR® Inspection Report: