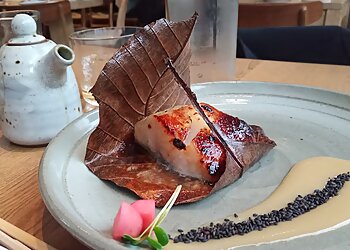 ROKA Charlotte Street stands as an upscale Japanese restaurant specializing in premium sushi and grilled dishes. It provides a sophisticated, well-appointed setting where patrons can savour delectable cuisine. The restaurant's staff is known for their efficiency, courtesy, and friendly service. ROKA Charlotte Street boasts an impressive sake menu, ensuring that you'll always discover the perfect pairing for your meal. Their kitchen skillfully infuses contemporary elements into traditional Japanese flavours, offering specialities prepared on the visible Robata grill. During warm weather, the restaurant's glass walls open onto the adjacent street, creating a semi-alfresco atmosphere. ROKA Charlotte Street's Premium Tasting Menu offers a selection of delicate delights, including yellowtail sashimi with a yuzu-truffle dressing and Naka kaki Irish oysters accompanied by ponzu and chilli daikon. Additionally, the restaurant accepts debit cards for added convenience. Their ambience is trendy and upscale and exudes a classy aura, making it an ideal choice for an elegant dining experience.

UNIQUE FACTS:
• Dine-in
• Takeout
• Home Delivery
• Outdoor Seating
• Reservations
• Wheelchair Is Accessible
• Full Bar Facilities
• Free Wifi Connection
• Free Parking Facilities.
Speciality:
MUST TRY DISHES: Sweet Potato Tempura, Tiger Prawn Tempura, Rock Shrimp Tempura, Chicken Skewers, Chicken Wings, Spicy Beef, Baby Back Pork Ribs, Lamb Cutlets, Beef Fillet, Wagyu Beef, Scallop Skewer, Salmon Fillet Teriyaki, Steamed Edamame, Spicy Edamame, White Miso Soup, Soft Shell Crab, Beef Ginger and Sesame Dumplings, Crab and Black Cod Dumplings, Rice Hot Pot & Tuna Tataki
£Price:
Roka News Starts from £12
Snacks, Salad and Tempura Starts from £6.30
Dumplings and Rice Starts from £4.90
Salads and Tataki Starts from £8
Tempura Starts from £13.50
Maki Rolls Starts from £9.80
Sashimi-Nigiri Sushi Starts from £8.60
Tokusen Starts from £12
Robata Meat Starts from £8.50
Robata Seafood Starts from £9.50
Robata Vegetables Starts from £9

Desserts Starts from £8

Contact:
Working Hours:
Lunch
Mon-Fri: 12pm - 3:30pm
Sat-Sun: 12pm - 5:30pm
Dinner
Mon-Sat: 5:30pm - 11pm
Sun: 5:30pm - 10:30 pm

TBR® Inspection Report: