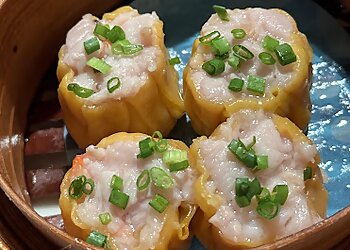 Yauatcha Soho is a renowned Chinese restaurant in London's vibrant culinary scene. It offers a sophisticated selection of beverages, including international wines, premium sake, and expertly crafted cocktails. This restaurant provides a modern Chinese dining experience with carefully prepared dim-sum and delicious handmade desserts. Located in London's Chinatown, Yauatcha Soho is a unique culinary destination that invites diners to savour modern Asian cuisine. The interior features contemporary decor, including a luminous floor, star-lit ceiling, neon accents, and an innovative aquarium bar in the basement, creating a refreshing dining atmosphere. The dedicated staff at Yauatcha Soho uphold high service standards, ensuring an exceptional dining experience for all guests. The restaurant offers both dine-in and takeaway options for flexibility. Notably, Yauatcha Soho offers a delightful dessert selection, including irresistible macarons and exquisite petits gateaux like lemon sesame pie and toasted hazelnuts. For convenience, Yauatcha Soho accepts debit cards and Apple Pay for easy payments. Whether dining with a group or seeking a memorable culinary experience, this restaurant consistently exceeds expectations.

UNIQUE FACTS:
• Dine-in
• Takeout
• Home Delivery
• Reservations
• Many Vegetarian Options
• Television Facility
• Free Wifi Connection
• Full Bar Facility
• Free Parking Facilities.
Speciality:
MUST TRY DISHES: Classic Steamed Dim Sum, Classic Baked Dim Sum, Supreme Dim Sum, Prawn and Bean Curd, Char Siu, Crispy Wild Mushroom and Bean Curd, Venison Puff, Wagyu Beef Puff, Pan Fried Mooli Cake, Spicy Soft Shell Crab, Soft Shell Crab, Foraged Mushroom, Vegetable and Soy Mince Lettuce Wrap, Jasmine Tea Smoked Ribs, Crispy Duck Salad, Red Snapper Curry, Crispy Aromatic Duck, Stir-Fried Artichoke, Baby Pak Choi, Singapore Noodles, Hand Pulled Noodles, Fragrant Fried Rice & Egg Fried Rice with Spring Onion
£Price:
Mid Autumn Festival 2023 Starts from £ 5.50
Harmony Starts from £108
Prosper Starts from £85
Spirit Starts from £65
Delight Vegan Starts from £60
Taste of Yauatcha Starts from £34
Dim Sum Platters Starts from £28
Dim Sum Steamed Starts from £9
Cheung Fun Starts from £10
Dim Sum Baked / Fried / Pan Fried Starts from £10
Bao Starts from £10

Small Eat Starts from £15
Soups & Salads Starts from £11
Fish & Seafood Starts from £30
Meat & Poultry Starts from £22
Tofu & Vegetables Starts from £14
Rice & Noodles Starts from £6
Petits Gateaux Starts from £6
Macaron Starts from £2.50

Contact:
Working Hours:
Sun-Wed: 11am - 9:45pm
Thu-Sat: 11am - 10:45pm
TBR® Inspection Report: