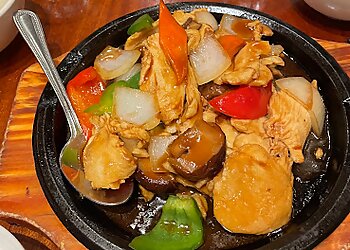 Seven Days in Cambridge is a truly genuine Chinese eatery, boasting an expansive menu of traditional Chinese cuisine within a serene setting adorned with Asian interior accents. Your dining experience here promises to be delightful, thanks to their skilled chefs who excel at crafting authentic Chinese dishes. Seven Days offers delectable meals at affordable rates, using only the freshest and finest ingredients. They also accept debit cards and are family-friendly, making it a great choice for both kids and larger groups.

UNIQUE FACTS:
• Dine-in
• Takeaway
• Home Delivery
• Reservations
• Full Bar Facility
• Television Facility
• Free Parking Facility.
Speciality:
MUST TRY DISHES: Home Style Dishes: Stir-fried French Beans with Minced Pork and Chilli, Four Season Shredded Aubergine and French Beans, Fried Potato, Green Pepper and Aubergine, Long Green Pepper with Mince Pork, Aubergine Coated with Salted Egg Yolk, Aubergine in Chilli Sauce, Braised Aubergine in Brown Sauce, Stir-fried Potato and Chilli, Hot and Spicy Bean Curd with Minced Pork, Bean Curd with Minced Fish in Chilli Sauce, Chinese Leaf and Bean Curd Served in Pot, Japanese Soft Bean Curd with Salted Egg Yolk Sauce & Ginkgo and Dry Bean Curd Skin with Chinese Leave
£Price:
Hot Starter Starts from £6.45
Cold Starters Starts from £9.95
Soup Starts from £5.95
Cantonese Main Dishes Starts from £1.50
Seafood Dishes Starts from £15.95
Fish Dishes Starts from £15.95
Pork Dishes Starts from £13.95
Lamb Dishes Starts from £13.95
Beef Dishes Starts from £13.95
Poultry Dishes Starts from £13.45
Hotpot & Sizzling Dishes Starts from £15.95

Home Style Dishes Starts from £12.95
Noodles Starts from £9.95
Rice & Dumpling Starts from £4.95
Dessert Starts from £11.95

Contact:
Working Hours:
Mon-Sat: 12pm - 3pm|5pm - 10:30pm
Sun: 12pm - 3pm|5pm - 9:30pm

TBR® Inspection Report: